Bottom flaps series HSE 75
Single flap/shaft cover from aluminium
Hinged bottom flaps accessible for cars and light commercial vans
■ Typical floor coverings
   ceramic tiles, marble, terazzo tiles, concrete, artificial resin, wood and all hard floor coverings
■ Performance
   Up to 5 tonnes pneumatic tyre wheel loads (cars and light commercial vans)
■ Options
   Double sealing.Flap for removing from below.
■ Tender specification
   Recessed bottom flaps and frames produced by Howe Green Ltd Series HSE 75,
   visible aluminium/ stainless steel junction profile, hidden flap mounting by multiple-joint
   hinges, gas springs, floor plate from stainless steel, reinforcement and double sealing,
   removing from above and below or just from above.   
   The flaps are sent with combined lifting/security keys.
   All this is produced by Howe Green Ltd,Marsh Lane, Ware, SG12 9QQ, Hertfordshire
   Great Britain, and installed according to manufacturer's specifications
   and site manager's guidelines.
■ Size
   Total dimension of the upper outer frame (see drawing below) =
   clearance (without supports) + 133mm.
   Both of the sides below which are not shown are 60mm,
   which means: the clearance in this area + 120mm
   e.g. 600x600mm clearance = 733x720mm total width of the frame.
■ Weight
   To open a filled out and correctly installed flap of the series HSE 75,
   a max. lifting force of 20kg is needed.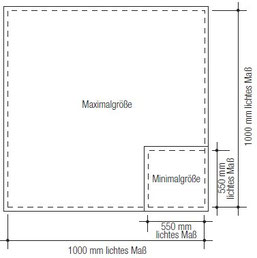 Cross section of concrete subfloor (scale 1:2)